18 tags
14 tags
13 tags
12 tags
12 tags
10 tags
13 tags
13 tags
11 tags
10 tags
12 tags
15 tags
9 tags
10 tags
11 tags
10 tags
9 tags
9 tags
11 tags
9 tags
10 tags
17 tags
10 tags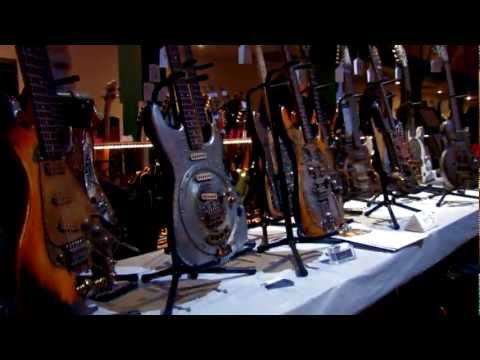 9 tags
hunterilardi asked: How do you create these magnificent designs? I literally sit on the edge of my seat in hope to see another picture of these guitars!! They are all great.
12 tags
10 tags
mishatherat asked: Are you the guy who made a really kickass guitar out of a shovel? And if you're not, you don't know him, do you?
9 tags
9 tags
11 tags
9 tags
8 tags
8 tags
9 tags
10 tags
9 tags
7 tags
8 tags
10 tags
10 tags
9 tags
Guitar Made From James Dean's Porsche →
My search for storied guitars took an odd turn. Sometimes it's the odd devices that get me jazzed. One guy even had a guitar with human teeth used for the knobs on the tuners. He was a professional boxing referee and collected the teeth for 20 years. Another guy once tried to sell me a hollow body Gibson that had a secret compartment fitted with poison darts and a blow gun. I don't...
Guitar Doesn't Smell Like Guitar →
I like weird guitars, and that's about it. I'm not big on spiritual stuff and I don't usually get scared by things other people may jump clean out of their skin about. But I had a guitar once that I couldn't get rid of fast enough. It wasn't the way it looked. It wasn't the way it felt. It wasn't the way it sounded. I had picked it up because it had these...
9 tags
I Score Clown Bass Guitar →
"Is this a three quarter size bass guitar?" I asked. "Yeah, got it from a dude in New Hampshire. He had a clown act he did at parties and such and a full size bass stuck out of his pants too far." I didn't ask for elaboration. Didn't need it. Didn't want it. "Thirty bucks? Why so cheap?" Oh jeez, aren't I the master of haggle?...
9 tags
Tony Cochran, Guitar Hunter - Monkey Skin Guitar... →
Buying guitars must hyperactivate your kidneys. I was making really good time home in the truck, but nature's call had progressed from a gentle urgency to "if I don't find a bathroom real soon, I'm going to blow bladder all over the dashboard." I stopped at a UDF and scurried inside. After I had taken care of the situation, I grabbed 2 jerkies and a Stuarts Cream...
10 tags
Guitar Has Chambered Star and Dot Lever →
I had never seen a guitar with one of these. Not in real life, anyway, only in old pictures … very old pictures. I wondered if it worked. "Peter Frampton owned it. He sold it to Jimmy Page," the owner pleaded. "Jimmy Page sold it to Jimi Hendrix in 1986." "I bet he hardly used it," I said. "Only once and that was at that there big We Are The World...
9 tags
Rumor Has It . . . Art of Eccentric Electric... →
10 tags
9 tags
Tony Cochran, Guitar Hunter - Russian Guitar Under... →
The Russian guitar under the house trailer wasn't Russian at all. It had a hammer and sickle stenciled on it and the guy claimed that a communist named Keith Richards had owned it back in the late 60s before he was a Rolling Stone. I told him, as far as I knew, Keith Richards was an avowed capitalist. "He is now," he answered, "but this was his back when he was poor and...
11 tags
Tony Cochran, Guitar Hunter - You Don't Get... →
He offered the guitar to me like it was a giant fudgesicle. "I got it in a deal with Satan," he said. He was short, fat and all his visible skin was covered with badly drawn tattoos: flames, skulls, devils, you know, generic wicked. I laughed. "I don't know what you gave him for it, but apparently Satan only had to cough up a $50 piece of crap from Kmart." How is it...